As a boy, Bart Weetjens loved to play with his pet rats. One thing that always stuck in his memory was the rat's strong sense of smell and the ease at which they could be trained.
Bart recalled these skills years later as a student at the University of Antwerp in Belgium, where he was working on an analysis of the global land-mine detection problem (ie. how to find all of the unexploded mines left over from countless wars around the world).
Bart felt that rats could provide a cheaper, more efficient and more locally available solution to the land-mine problem, so he began to do early research on this concept in 1997.
Bart called his project APOPO, which stands for  Anti-Persoonsmijnen Ontmijnende Product Ontwikkeling (English translation: Anti-Personnel Landmines Detection Product Development).
The organization moved to Mozambique in 2000, where they partnered with the Tanzanian People's Defence Force to help mine-clearing operations in that  country.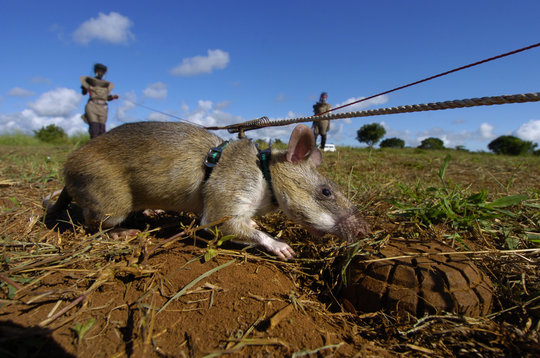 By 2006, APOPO's HeroRATS were also fully integrated into land-mine detection programs in Tanzania. In 2010, APOPO began operations in Thailand as well.
Check out below to learn more about the HeroRAT's mine-detection skills:
The reason that these rats are so good at detecting land-mines is that they have an extremely acute sense of smell, which allows them to easily identify the scent of TNT (after being trained to recognize it).
Early on, Bart realized that the HeroRATS' amazing sense of smell wasn't being fully utilized. In 2003, he entered APOPO in the Development Marketplace Global Competition sponsored by the World Bank.
His idea: using the rats to help detect tuberculosis as well as land-mines. APOPO won the competition, and in doing so received the necessary funding for their research into training TB-detecting HeroRATS.
TB is one of the deadliest diseases in the world. About 9 million new cases are reported annually, and the disease kills nearly 2 million people each year.
The HeroRATS give health workers a huge advantage over humans when it comes to detection of the disease.
A human lab tech can only process about 40 samples in a day; the HeroRATS can do that same amount of work in only seven minutes, and they often find TB-positive samples that the human technicians missed.
Check out the video below to learn more about he HeroRATS' work in tuberculosis detection:
To learn more about the APOPO organization's land-mine and tuberculosis detection programs, you can visit their website here.